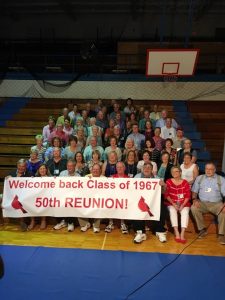 Friday, August 18th at the Christian Liberty Academy, formerly Arlington High School, home of the Cardinals.
iT WAS SENIOR BERMUDA NIGHT!
Saturday, August 19th was at D'Andrea Banquets & Conference Center,                 4419 Northwest Highway, Crystal Lake, IL 60014
OVER 98 SHOWED UP – IT WAS A GOOD TURNOUT!
The Arlington High School Class of 1967 (Arlington Heights, IL) held a 50-year class reunion.
Here is a partial list of those who attended.   Some new ones are at the bottom of the list.   Spouses and Guests have not been listed.
| | | | |
| --- | --- | --- | --- |
| First & MiddleName | Nickname | HS Last Name | Current Last Name |
| | | | |
| Robert Hamilton | Bob | Abney | Abney |
| Christine Margaret | Chris | Abt | Abt |
| Gloria Ann | Gloria | Anderson | Watson |
| Cary Walter | Cary | Annen | Annen |
| Cheryl Lyn | Cheryl | Bokelmann | Bokelmann |
| Paul William | Paul | Bowen | Bowen |
| Barbara Ann | Barb | Broscovak | (Boncimino) Kovacevich |
| Robert Gordon | Bob | Butcher | Butcher |
| Dorothy M | Dorothy | Chapman | Hubbard |
| Jamie Pauline | Jamie | Chapman | Chapman-Torres |
| Betty | Betty | Chin | Ploplys |
| Susan Mary | Sue | Chodera | Markshausen |
| Margaret Ann | Peg | Corwin | Corwin |
| Lawrence Peter | Larry | Dale | Dale |
| Allard Nelson | Allard | Deu | Deu |
| Cheryl Frances | Cheryl | Dority | Dority |
| Karen Joy | Karen | Ellertson | Ellertson |
| Jerry | Jerry | Enright | Enright |
| Pamela Lynn | Pam | Fruehling | Sherman |
| Lorrence Post | Lorry | Getting | Getting |
| Verne Donald | Verne | Gongol | Gongol |
| Kathryn Ellen | Kathie | Graef | Whiffin |
| Robert Irwin | Bob | Hecht | Hecht |
| Susan Jean | Sue | Hellig | Lauvetz |
| David Bruce | Dave | Howard | Howard |
| Thomas Patrick | Tom | Hyde | Hyde |
| Marcia Susan | Marcia | Jacoby | Bowen |
| Michael Paul | Mike | Jones | Jones |
| Maureen Hazel | Maureen | Klassen | Cortez |
| Donna Jean | Donna | Krilcic | Hardesty |
| Kenneth Allan | Ken | Kudsk | Kudsk |
| Valerie Anne | Valerie | L'Hommedieu | Stockman |
| Susan Kathy | Susan | Le Beau | Parry |
| Thomas Patrick | Tom | MacCarthy | MacCarthy |
| Harry Anold | Arnie | Malone | Malone |
| Bonnie Linda | Bonnie | Marks | Marks |
| Kim Gregory | Kim | Markshausen | Markshausen |
| Sherri Lyn | Sherry | Mead | Klopfenstein |
| Carol Lynn | Carol | Metzel | Roeske |
| Susan Jean | Susan | Morrow | Donaldson |
| Ruth Adeana | Ruth | Moulton | Hultz |
| Gail Ann | Gail | Naylor | Lane |
| Jane Alyce | Jane | Nichols | Eggstaff |
| Bradley Ralph | Brad | Philo | Philo |
| Paul Robert | Paul | Predick | Predick |
| George Arthur | George | Reineking | Reiniking |
| Richard Charles | Rich | Reiniking | Reiniking |
| Diane Marie | Diane | Scholten | Scholten |
| Dianne Marie | Dianne | Schreiner | De Camp |
| Kristina Louise | Kristi | Schwank | Kirkham |
| Clark Allen | Clark | Sims | Sims |
| Charles Eugene | Chuck | Slater | Slater |
| Carol Ann | Carol | Spomer | Spomer |
| Stephen Weber | Steve | Starek | Starek |
| Nancy Eileen | Nancy | Streit | Fialkowski |
| John G | John | Svast | Svast |
| Gail June | Gail | Tagtmeier | Gudas |
| Jane Ellen | Jane | Ulrich | Hoppe |
| Michael Paul Jr. | Mike | Wadzita | Wadzita |
| Kathryn Ann | Kathy | Waffle | Malone |
| Kim A | Kim | Wiederhold | Alexander |
| Gloria Rae | Gloria | Woss | Thelen |
| Maeme | Maeme | Yee | Briehan |
| Sheila Kay | Shiela | Zimmerman | Philo |
| Deborah Louise | Debbie | Zonsius | Lane |
Diane                      Diane            Hahnfeld               Hecht
Brad                         Brad              Somers                   Somers
John                         John              Sedor                        Sedor
Scott                      Scott              Warman                   Warman
Pam                          Pam                Jacobs                     Wuich
Gerald                     Gerry               Reese                      Reese
Peter                        Pete                 Olinger                    Olinger